ifa laboratory works on creativity and insertion of creativity in diverse sectors and businesses.
We are thrilled to offer the talk 'The Source of Creativity' with artist Joakim Eneroth on May 17 6.30-8pm.
Everybody wants to be creative today. Not only artists and creatives but the business world, industry and technology. Creativity is essential for innovation; for thinking out of the box and inventing new competitive ideas.
ifa laboratory supports companies being creative through conferences and through creative team-building and artistic interventions as well as cultural strategy.
Research has shown that creativity is beneficial for the way we use our brain and this comes closer to the essence of this talk with Swedish artist Joakim Eneroth. In his solo exhibition Whispering Void, (vernissage @ ifa gallery 19 April. Exhibition until 17 June), the artist presents photography, three-dimensional photographs and levitating sculptures that emerge from his period of work with neuroscience.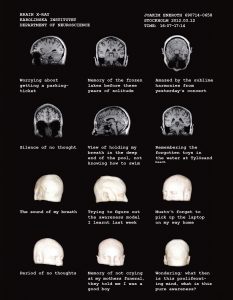 The artist address questions about what creativity actually is.
And inspiration? Where does it come from? We all know what a manifested idea looks like, a thought and an emotion has occurred that leads us to manifest something in the outer world. But what is the source of that idea and emotion that leads to the manifestation. What is the origin for all creative ideas? Is it possible for us to observe the flow of creativity before it takes any form? Can we perceive the original source of creativity and inspiration in our direct experience?
With the intellect we can not do it, to think about a thought that has not occurred yet, to think about an idea that has not appeared yet.
But there is another more radical way to do it, that we will explore together in this talk and conversation.
Q & A + cocktail.