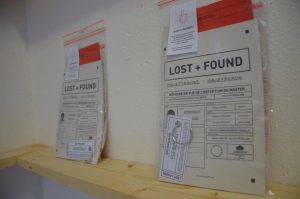 We have the pleasure to announce the collaboration with Royal Academy of Fine Arts in Brussels. Together we have created 'Prix ifa laboratory'. Last week two laureates were chosen for a presentation of interactive and participative projects at ifa laboratory spring/ summer 2017. Congratulations to Deborah MARINO and Benoît ARMANGE.
Images above installation Lost & Found by Deborah Marino at Académie Royale des Beaux-Arts de la Ville de Bruxelles.
A special mention is also awarded to Claire Ducene by ifa gallery.
OTHER AWARDS ARE:
Prize of the City of Brussels:
Elina SALMINEN (Painting)
Prize of Excellency of the City of Brussels:
Elina SALMINEN (Painting) & Fernando ALVES NEVES (Visual Communication)
Scholarship Horlait-Dapsens (Artistic Foundation):
Annita KOSMADAKI  (Tapestry) & Elina SALMINEN (Painting)
Prize MAD
Marion PLACAIS (Textile Design) & Klara FINDER (Ex Master Stitching)
Prize Morelli Contemporary/ArBA-EsA
Céline CUVELIER (Painting)
Prize ifa laboratory/ArBA-EsA
Déborah MARINO (Visual Communication) & Benoît ARMANGE (AEsP)
Prize Academia Belgica/ArBA-EsA (ROME)
Valentin CAPONY (Engraving)
Prize Itinera (Sienne)
Blandine CUISIN (Engraving) & Hadrien BRUAUX (Painting)
Prize Espronceda/ArBA-EsA (Barcelona)
Emile PIETTE (Sculpture) & Annita KOSMADAKI (Tapestry)
Mentions spéciales: Elina SALMINEN (Painting) & Valentin CAPONY (Engraving)
Prize Hotel Bloom
Lucien ROUX dit BUISSON & Antoine LORTIE