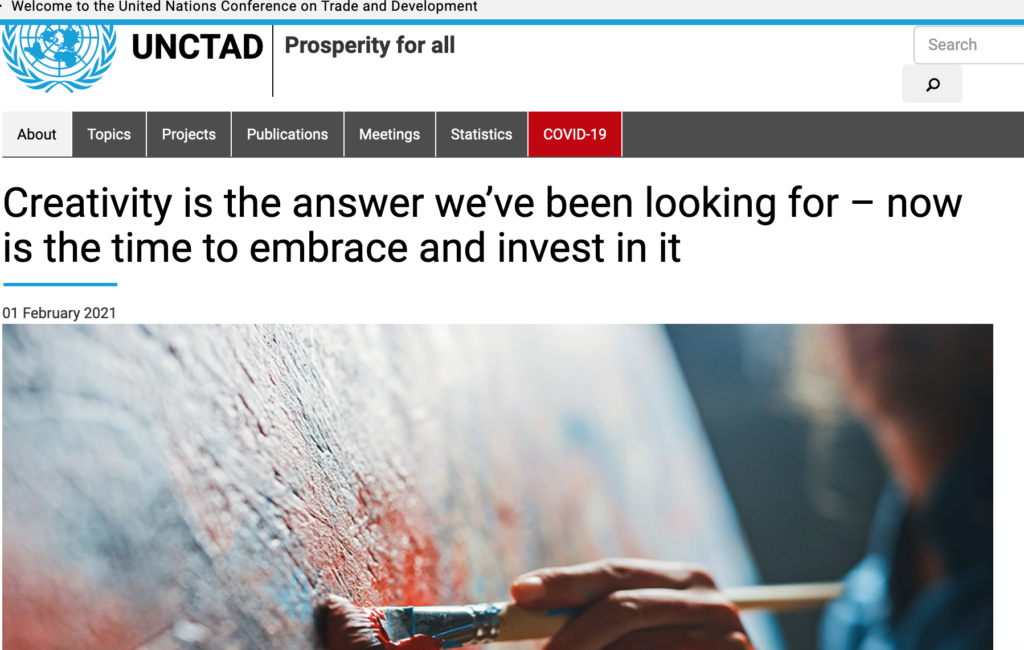 I could not agree more that creativity is an answer for us today. The statement comes, as you can see above, from the article by Marisa Henderson, Chief of the Creative Economy Programme, and Amy Shelver, Public Information Officer, UNCTAD. The 2021 UN Year of Creative Economy #CreativeEconomy2021 is a great opportunity to look at this much closer. 
How is creativity actually interpreted, how is it used and in which contexts?
There is much misunderstanding around this word. Who would say that for example the artist is the expert of creativity? In a survey among visitors at European Business Summit over 95% of the persons we interviewed did not connect creativity with the arts at all.
But the thing is, the artistic professions have a high concentration of creativity. This can be leveraged for human-centric innovation and for the wider economy. This is truly about sustainable development of the creative economy; to leverage skills that the artistic professions are filled with. It can create jobs and it can create innovation. 
What is problematic is that not many artists are aware of how they can benefit of their skills beyond creating their art. Education has not created enough awareness on how they could use their skills in a different, additional context and create more revenues. And businesses, in general, seem to be in the cradle of understanding the potential collaborating with artists. 
The diversity of thought, and the exchange of different ways of seeing and doing is not enough encouraged from start. Who could think that awareness of that sort can possibly be crucial for the whole operational system of a workforce across sectors.
Creativity has innovation potential and creativity in artistic professions comes down to the creative process and the fundamental culture of these sectors that enables innovation – often very different to business sectors. 
So we need to raise awareness about this, and we need to put into place an eco-system, reaching other sectors and the wider economy, both on a micro and macro level for the skill transfer.
Together with my colleague Khawar Hameed from Artisans of Innovation and with Zeldah Schrama we are currently writing an article on understanding cross-sector collaboration and what impact creative cultural intelligence have in specific contexts.
Contact me on johanna@ifa-laboratory.com if you would be interested, either in contributing, or if you would like to see the end result.