Jérôme Désert – engage your teams through visual art disciplines
A precise context is needed for developing your teams creativity/ work on your values/ internal communication/ visions/ objectives/ specific projects; workshops with Jérôme offers a great opportunity for your team members to discover new qualities and new sides in their colleagues.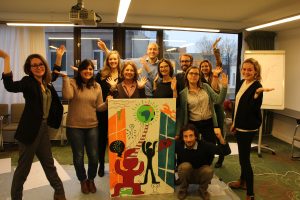 These workshops can help you:
unleash creativity
inspire to practice your inventiveness
improve natural cooperation
individual and collective negotiation
make team members discover new qualities and new sides in their colleagues
concretise and live the company values
finding new ways of seeing and doing the daily job.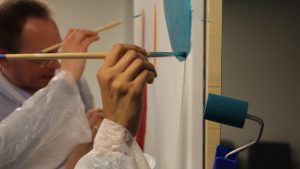 "It is now much more concrete what our values are about ". "This activity, where we were all engaged, made ideas come up that we maybe would never have had". Voices from a Belgian investment company in Brussels.

Who leads these workshops?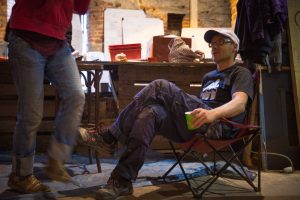 One of the artists we work with, the painter and street artist, Jérôme Désert, is active since years with art team-buildings and artistic interventions at companies such as; Carrefour, Schwarzkopf, Sanofi, La Poste, JC Decaux, Edenred, Kenzo, BNP, Alstom Foundation Braun, Sogeti, Alcatel.
These workshops are always done in collaboration with Johanna Suo from ifa laboratory who acts as facilitator and makes sure that the mission is anchored both with the artist and with the company. Our objective is always to bridge between the artistic discipline team-building/workshop/ event and the long term development of your company. How can your company leverage the experiences and apply skills in your daily working life? All workshops done with ifa laboratory are always evaluated and followed up.
For leadership development and change management, see also Change management with an orchestra conductor
Contact us for more information