"We will all have superpowers. Because in virtual reality you can be anyone, you can go anywhere, and you can create anything…it's going to be the next mass medium." Rikard Steiber HTC
ifa laboratory collaborate with the VR artist Raphaël Villegas in order to offer creative and cutting edge possibilities for companies, organisations and governmental bodies to develop their organisation and their teams.
VR can help industry, architects, film creators, fashion stylists and many other sorts of companies in their daily work.
Examples on how VR can help your company
work creatively on selected topics together, even from different locations in Belgium or in the world
build on a "we" feeling uniting teams
work in an innovative way (having technology, creation, immersion and experience at the core)
explore a product, a scene, a location, a building before it is created
be immersed in a 360 ° environment or you can express and organize your ideas without limit
be very quick and concrete in the development and association of your ideas and present them easily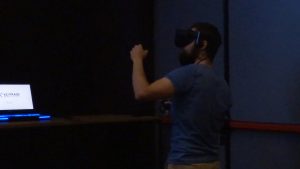 In addition we can offer you LIVE virtual reality. This experience with an artistic performance immersed in virtual reality is unique. Your events, conferences or seminars can be made unforgettable through the creation of an artwork linked to your subject in virtual reality in LIVE! You want to know the best part? Your audience is invited to wear a VR helmet and see the painting after its realization! Raphaël Villegas can paint in a 3D space at your event in front of the audience!
Raphaël is an illustrator, creative director and VR artist who has practiced for many artistic sectors. He worked several years as a freelancer, notably for the famous video mapping studio Dirty Monitor before turning to the development of video games. In 2015, he created the studio "Curious Craft", specialized in playful experience VR / AR where he worked as a creative director for 2 years.
His years of experience have enabled him to work with clients such as Patek Philippe, Proximus, Luc Petit Creation, Fishing Cactus, The Royal Museum of Mariemont, Imagine Film, Keytrade Bank, Axa Assurance.
Team-building, leadership & organisational development