ifa laboratory is a consultancy and a social enterprise working with art as a method. We propose different possibilities of engaging with art and culture in innovative ways.
ifa laboratory proposes made-to measure services to companies, organisations, cities, regions and government administrations.
CULTURAL STRATEGIC RELATIONS
We all live and breathe culture. Culture is the invisible language that separates and unites people. So what can be better than culture, for reaching people in a meaningful way?
There are different kinds of cultural strategies and one of them can be right for you to get market breakthrough and access your target audiences.
Cultural strategic relations include cultural diplomacy and cultural strategy in the broader sense. A cultural strategy does not have to involve artistic or cultural elements if you look at it from an anthropological way. The outcome of our strategy advice will create understanding and attraction of your key messages and values. The cultural strategy will make you understand your target group better.
ifa laboratory can help you develop ideas and concepts as well as implement cultural strategy projects from a-z.
TEAM EVENTS, TEAM BUILDING & ORGANISATIONAL DEVELOPMENT THROUGH ART
"It is now much more concrete what our values are about "
"This activity, where we were all engaged, made ideas come up that we maybe would never have had"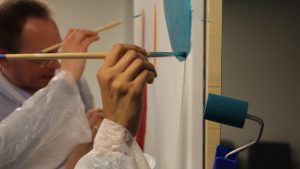 Use creativity as a method to improve collaboration, make teams more efficient, get them to feel better and live the company values. ifa laboratory can help you with everything from creative cocktails to in depth team-building and organisation development. At ifa laboratory we are passionate about what art brings to companies and to business and we have the experts; for example artist Jérôme Désert, having years of experience of team-buildings, and coach Peter Musschoot, having worked long with individuals and companies, can easily help your teams apply the outcomes of the creative team-building in the daily working life.
The software company Adobe recently released a study about the importance of creativity for companies. For example it shows that companies with creative teams have 1,5 times higher chance of being leaders of their sectors than the less creative ones.
PRESENTATIONS: CREATIVTY IN YOUR COMPANY
Find out how creative skills can impact on processes in your company and even on its profit & revenues; get to know more about what has happened previously in case–studies. Conference interventions from 15 minutes to 1 hour.
IFA LABORATORY – VENUE HIRE
Do you usually have your conferences, lectures, cocktails and team gatherings at a restaurant, in the conference room or in the hotel lobby? Then this is your chance to change that.
Have your event at the venue of ifa laboratory. Our venue is 210m2, bright, has high ceilings, big windows, full of art and creativity. The venue of ifa laboratory can also be at your disposal during longer periods linked to your cultural strategy initiatives.
Income from venue rentals go directly to our community development programme for the Marolles district in Brussels, where we are based.
Contact us for a meeting, full details, service offers and prices:  contact@ifa-laboratory.com