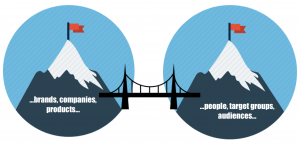 Cultural strategic relations creates a bridge between you and your target group.
We all live and breathe culture. Culture is the invisible language that separates and unites people. Culture speaks to the inner parts of the human being, to her heart and feelings, and to who she is. What can be better than culture, for reaching people in a meaningful way?
There are different kinds of cultural strategies and one of them can be right for you to get market breakthrough and to access your target audiences. For example, one form of cultural strategy can be an artistic creation, sponsoring or investment done with the objective to get visibility in front of a clearly defined target group.
What would one like to be seen for? What kind of audience does one want to connect with? How do you manifest values in a meaningful way?
Cultural strategy can also be seen from an anthropological angle, aiming to understand the human being, cultures, traditions, values, assumptions, the depths that have made you who you are. This kind of cultural strategy is more profound and can be very powerful, creating cultural expressions that your target group need in order to sustain who they are.