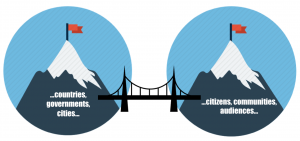 The golden cultural bridge. We all live and breathe culture. Culture is the invisible language that separates and unites people. Culture speaks to the inner parts of the human being, to her heart and feelings. For reaching people in meaningful way, what can be better than culture?
Cultural Diplomacy has today become a fashionable idea and expression. What does it actually mean? The answers vary, depending on who you are asking. Why is one taking a cultural diplomatic measure and for whom? Can Cultural diplomacy be aligned with one's nation branding?
Cultural diplomacy can be an important part of a country's public diplomacy and it can be an important part of a country's international relations. Many researchers agree on that overlooking the understanding of others on cultural levels can result in costly mistakes, or it can simply undermine the breakthrough of any marketing or public diplomacy project.
Cultural Diplomacy is traditionally something exercised by state representatives in international relations but today it involves more and more private sector and institutions. At ifa laboratory we are fervent defenders of the new kind of cultural diplomacy based on value-based interaction.
Managing director, Johanna Suo, has a 10-year long experience of culture in international relations. She is a member of the think tank European Cultural Parliament and she co-founded their Youth Network. Johanna earlier worked at the Swedish Institute, at Innovation Culture Europe she raised awareness of countries through artistic projects, then at the Goethe-Institut she conceptualized a large-scale traveling exhibition project bridging civil society and politics through culture.
Johanna has an overview of research projects on cultural diplomacy and art in international relations. In 2015 she was awarded the Marshall Memorial Fellowship (of the German Marshall Fund of the United States) aiming to reinforce transatlantic relations. Her individual focus was to look at the value of art and culture, art in international relations and cultural diplomacy.