INTERACTIVE AND PARTICIPATIVE ART
As ifa laboratory works with art as method, this mean that art is presented in an unconventional way compared to the usual exhibition you may see in an art gallery. ifa laboratory presents installations and projects in the public space, in communities and sometimes in the ifa laboratory venue. Interactive and participative elements are key.  ifa laboratory features artworks by both unknown and established artists.
Artistic perspectives for community development 
Currently ifa laboratory develops five projects with artists working with and for the Marolles neighbourhood in Brussels. The projects offer artistic proposals for interaction between different communities whether they may be boutique owners, immigrants, expats, job or homeless persons, gallery owners, local residents, or social housing residents.
Kaarina Kaikkonen (FI) The Social Elevator (working title)
Large-scale installation involving the elevator of the Marolles between the palace of Justice and rue de l'Epée. The installation invites to debate about the community and its different resident people, going back to a historical aspect of the neighbourhood. Talks will be organised.
Patrik Qvist (SE) Everyone is an activist
Everyone´s an Activist is a participatory art project that explores feelings and opinions about climate change and environmental issues. The aim of the project is to spark dialogue about environmental issues in the demographically and culturally diverse neighborhood of Les Marolles and to bring people together.
Riikka Kuoppala (FI) and Thomas Martin (FR) – Dreams of the Street
This work will be based on months of research and interviews with homeless people in the Marolles taking into account their experience of living on the streets and mainly their dreams and sleep. How are these impacted by a life on the street? The final artistic product will be a sound archive installation at ifa laboratory, and a booklet. In addition a public event will be organised based on the experiences acquired during the production process of this project. The objective is both to facilitate a discussion between different actors working to improve the homeless' situation in Marolles" and to together gather ideas, conclusions and facts.
Jon Rubin (USA) working title TBC
Jon Rubin has great reputation for his social practice art projects. The idea for the Marolles is to create a community project linking the Marolles with a similar neighbourhood in the States and to develop an interesting eco-climate within the neighbourhood. A research trip to Brussels planned for May 2016. The artist is currently working with Guggenheim in New York on the project A talking parrot, a high school drama class, a Punjabi TV show, the oldest song in the world, a museum artwork, and a congregation's call to action circle through New York.
Deborah Marino  (FR) Lost + Found
Archive, database and installation about the story of lost and found object. What happens with lost objects, what people are holding them in their hands? What particular stories are linked to it? An installation in the space of ifa laboratory and an online database with planned interactive activities witihin the neighbourhood of the Marolles. The project leads way to making acquaintance with persons who would not normally cross your path.
Previously at ifa laboratory:
HUMAN WARMTH by Déborah Marino
Human Warmth: that which makes us into social beings, capable of sharing and transmitting to others.
This is a project on family memories by the young artist Déborah Marino. She approaches the issue from a positive standpoint, so that it is not nostalgic but instead constructive memories that are under consideration. This work constitutes a group of time capsules that gravitate around one central point: the artist's aunt, a dress designer, of whom the clothes have set the life rhythm of those who wore them. The project pays homage to her in a very simple way: sharing personals memories via clothing items. Black squares on white t-shirts… that reveal images no sooner are they worn. Family photographs are transformed in illustrations, minimal but animated. The textile material is here a double skin that activates a memory upon contact with body heat. Initiated by the artist's family's own memories, this ongoing project takes place within the exhibition at Ifa laboratory, offering the public to share their memories and personal photographs. The artist will create on-site t-shirts directly inspired by each visitor's contribution. Artist Biography NL & FR versions.
For sharing your photo and its short story; please find the document here and send your photo to contact.deborahmarino@gmail.com or leave it in the Human Warmth letter box at ifa laboratory. In addition, you can also meet Déborah at ifa laboratory Saturday 17 December from 4 to 8 pm, and Sunday 18 December from 11am – 3 pm.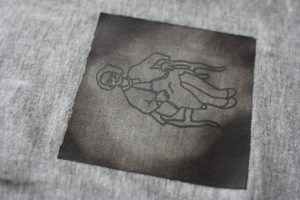 Detail from Human Warmth, heat activated drawing on t-shirt. Interactive installation & textile experimentation 2015/2016
BLANK PROJECT by Alexandre Ouairy
Blank Project questions the role of the artist, artworks and their environment and economic values, the legal system that protects him, and the free market which allows the artist to "have a career".
Blank Project is a series of 100 silk-screen prints on art paper, all numbered and signed. French Law defines an artist as the moral owner of his artwork, whether it is owned by a private collector or a museum. This is to say that the artist can at any moment modify or even destroy his artwork. Therefore the collector who buys a "Blank Project" is actually buying a potential future artwork. As the title indicates, the project is "blank" because it has not happened yet. The contract stipulates that the artist can at any moment revise it (through any means) or even destroy it. This is the artist's moral right.
The collector is taking a risk: he does not know what he is actually buying, he does not know what shape the artwork will take, or if it will even continue existing in the future. So the collector does not know if his investment is a good one. Read more about Blank Project: NL EN FR  Artist Biography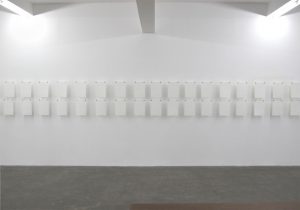 Exhibition view Blank Project, Alexandre Ouairy, silkscreen print on art paper, 21 x 29,7 cm, edition of 100, 2007.
Camella DaEun Kim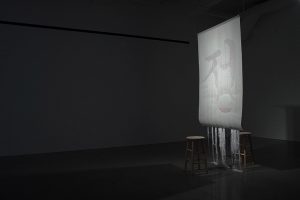 Ours (Jeong/情), Mixed media, performance, installation, 122 x 183 cm, 2016
Ours (Jeong/情 ) is an installation with an interactive performance by the artist. As she struggles to sew through the paper suspended from the ceiling, visitors are invited to sit across and exchange the needle with her. By encouraging her audience to sit across her to sew and finish the piece, it suggests many elements of human interaction such as understanding, compromising, adopting and forgiving. All these are part of defining the title of the work, Jeong in Korean.
Engaging with others develops a dialogue that facilitates the creation of a shared identity (much as the work of art is a shared production). Ours was previously exhibited at the Los Angeles Municipal Art Gallery (Barnsdall Art Gallery), visited by a large number of people coming from various walks of life. Unique piece 1/1 edition
This piece is still in process for completion and waiting for new audiences from Belgium to be part of it!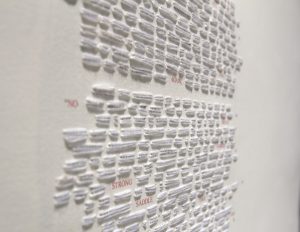 The Ballad of East and West, Mixed media, 10 days live performance, 91,5 x 122 cm, 2014, is the first participative work by the artist.
Camella DaEun Kim (born in South Korea, living and working in the U.S.) is an artist and educator who moves fluidly between different media such as performance, installation, gaming and new media to address the problematics of communication and interpersonal relationships under conditions of globalization and technological ubiquity. To find out more about Camella DaEun Kim and her work please click here.